Our Story
PTSD Therapy
Equines for Freedom (EFF) is a nonprofit organization that treats active and former military personnel and First Responders who are experiencing symptoms of Post Traumatic Stress Disorder (PTSD), no matter the source of the trauma. EFF uses one of the most effective treatments available; Eye Movement Desensitization and Reprocessing (EMDR) which offers clients a nontraditional approach to therapy. This therapy combines a licensed mental health professional, a certified equine specialist, and a therapy horse to create a research-based treatment model which strives to resolve emotional difficulties caused by disturbing, difficult, or frightening life experiences. The horse is an integral part of treatment because horses are prey animals and therefore are extremely alert and sensitive to the emotions of those around them. Clients learn to identify their own emotional state by observing the horse's reactions. The horse also helps the client stay grounded as they process past traumas.
Success
EFF has treated over 120 veterans and first responders to date including veterans from Vietnam, Iraq, and Afghanistan. A common theme among those in treatment is that they have tried everything and nothing has been effective. They often state that this treatment model is the first thing that has really helped. The treatment of these veterans has been extremely successful and therefore we are working to expand to also treat First Responders through a separately funded program.
PTSD is a serious issue that needs everyone's attention as it is estimated that there are 22 veteran suicides per day due to unresolved emotional difficulties. EFF set out to reduce veteran suicide and has worked diligently to fund well equipped treatment teams. The EFF board of directors is a group of volunteers working tirelessly to find funding through local fund raisers, community support, and a few grants.
---
Treatment Approach
Eye Movement Desensitization and Reprocessing (EMDR)
As you enter treatment with us, we would like you to understand that EMDR will be the treatment modality utilized in your therapy. EMDR has been researched for years and is a valid treatment for Post Traumatic Stress Disorder. It is also used for other various diagnoses. However, when adding the horse and making the treatment Equine-Assisted EMDR, there is not yet any research. Equine-Assisted EMDR is an experimental treatment approach. We would like you to fully understand our treatment approach and have outlined for you our mission for your treatment.
History is the first stage. We will be asking questions during this time regarding your past. We will give you educational material which we ask you to read so you can fully understand PTSD.
During the preparation stage we will teach you various ways you can learn to calm yourself and also help contain painful thoughts. We will teach you ways to keep you present and help you control thoughts from your past. The History Stage and Preparation stage will fluctuate and we will go between these 2 stages as you begin your treatment.
This stage is when we look at your history and you choose where you want to begin your processing.
Is when we begin to look at the past and keep you present so you can "let go" and live a life that you were meant to live.
Is the stage where you choose what you would rather feel and we process that with you.
Body Scan. From your readings on PTSD you will learn that the mind affects the body and this stage is to see if you have any body feelings regarding your past event.
Closure for the session after processing.
Checking in after the session when past material was processed.
---
Who We Are
Board of Directors
Equines For Freedom is organized through an all-volunteer Board of Directors from a variety of backgrounds. The Board is augmented with the hands of many volunteers who help promote our fundraisers.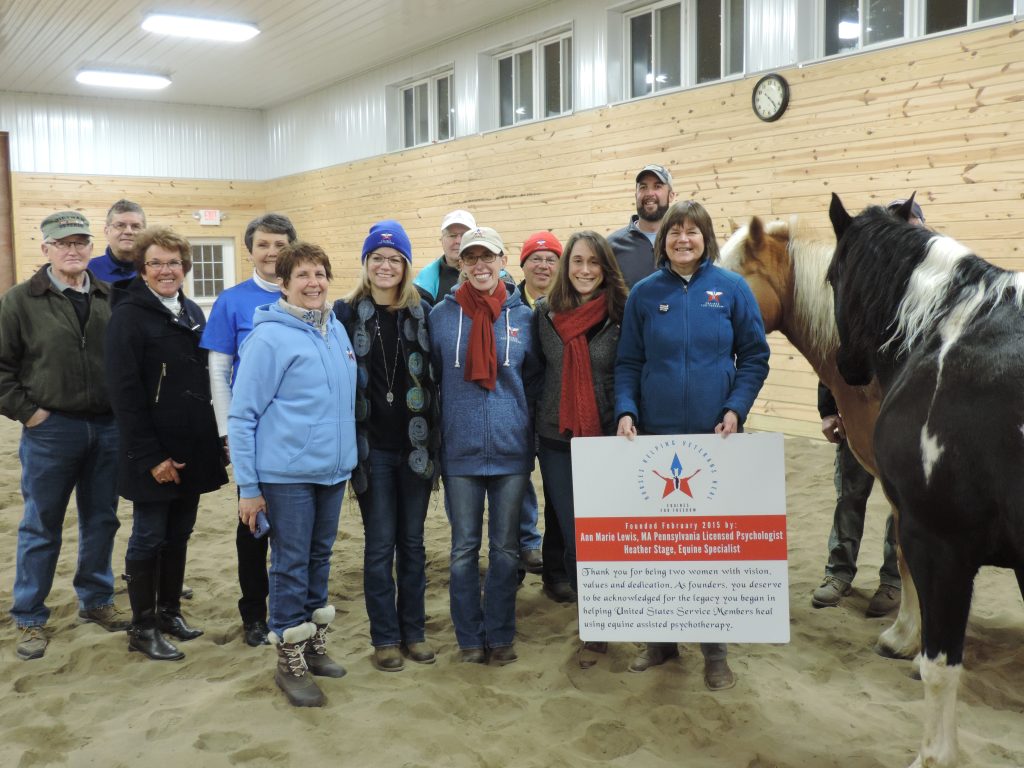 President: Bruce Spencer
Vice President: MaryBeth Guyette
Treasurer: Deirdre "Di" Jolley
Secretary: R. Sylvia Tagert
Board Members
Dr. Brenda Goodrich
Philip Hawthorne
Gary Johnson *
MaryAnn "Mimi" Johnson
Elizabeth "Beth" Kostelnik
Valerie Lower
Gretchen Mackie
Charles Passeri, Jr.
Ryan Ruark *
Elizabeth Witko
* Executive Board
Treatment Team
Ann Marie Lewis, M.A. Pennsylvania Licensed Psychologist since 1993
Ann Marie has 31 years working in the field of trauma. She is a Certified EMDR Therapist. Ann Marie is also Certified as an Equine Assisted EMDR Therapist. She is an EAGALA Certified therapist as well.
Ann Marie is the Founder of Equines For Freedom. She has been interested in working with the military since her involvement with the Susquehanna County American Red Cross. The Red Cross was asked to provide mental health assistance for the Family Readiness Group after the deaths of multiple soldiers for the 109th Armory in 2005. Ann Marie has been trained in working with trauma and has taking multiple educational courses to enhance her military experience. She has worked in her private practice treating veterans for several years. Ann Marie is the Clinical Coordinator for Equines For Freedom and has worked as a therapist since opening day November 9, 2015.
Marica Ramey, M.Ed., LPC
Marica has been a licensed professional counselor since 2003 and is licensed in both Pennsylvania and Virginia, and holds a master's level speciality in Military Resilience, in addition to being EA-EMDR certified and completing EMDR I & II, as well as completing EAGALA I training. Her personal & professional pursuit of actively learning about and practicing how to effectively support and facilitate the resilience of our wounded warriors began in 2007, when her husband was injured in Iraq.